GRAND STONEWARE VASE
UNATTRIBUTED
CA 1970
18" H X 8" DIA
CONDITION EXCELLENT
NOTES: Exceptional variations in glaze.
References an uncanny spectrum of stylistic gestures, from Art Nouveau to Brutalism.
PRICE $7200
CLOSE UP BELOW
LARGE VINTAGE STONEWARE JUG
JOHN SINGLEMAN (CORNWALL, UK BASED POTTER)
CA 1955
ORIGINALLY POSSIBLY A LAMP BASE
EXTRAORDINARY SCULPTED BODY
EXCELLENT VINTAGE CONDITION
PRICE $5900
SUPERB BRUTALIST SMALL STONEWARE POT
SIGNED AND DATED "67, KAT"
4" HIGH APPROX
EXCELLENT CONDITION: NO NICKS OR CHIPS
PRICE $1450
BRUTALIST EARTHENWARE STUDIO VASE
SIGNED C.H. TOOLEY AND DATED 1971
8 1/4" HIGH X 7" DIAMETER
NOTES: THIS SPECTATULAR HAND-THROWN EARTHENWARE VASE HAS A BISQUE EXTERIOR WITH A GREEN/BLUE ABSTRACT RAISED GLAZED APPLICATION; ALSO, A GLAZED GREEN/BLUE INTERIOR.
PRICE $3900
MID-CENTURY STUDIO POTTERY JUG
SALT GLAZE
CHOP MARK
EXCEPTIONAL COMPOSITION
13.5" H (APPROX)
PRICE $1200
INCISED CLAY VASE
UNATTRIBUTED
DIMENSIONS: 3.5" X 3.25" X 10.25"H
NOTES: WITH VIVID COLORS DEEPLY INCISED INTO THE HEAVILY PATTERNED CLAY CREATING A SURFACE MORE AKIN TO IMPASTO PAINTING THAN TO GLAZED CERAMIC, THIS EXTRAORDINARY PIECE HIDES ITS GAUGUIN-LIKE COLORATION AND MOTIFS UNTIL STRONGLY LIT. UNATTRIBUTED UNTIL MORE RESEARCH LEADS TO POSITIVE ATTRIBUTION.
EXCELLENT VINTAGE CONDITION, NO CHIPS OR CRACKS
PRICE $2600
DIFFERENT VIEWS NEXT TWO IMAGES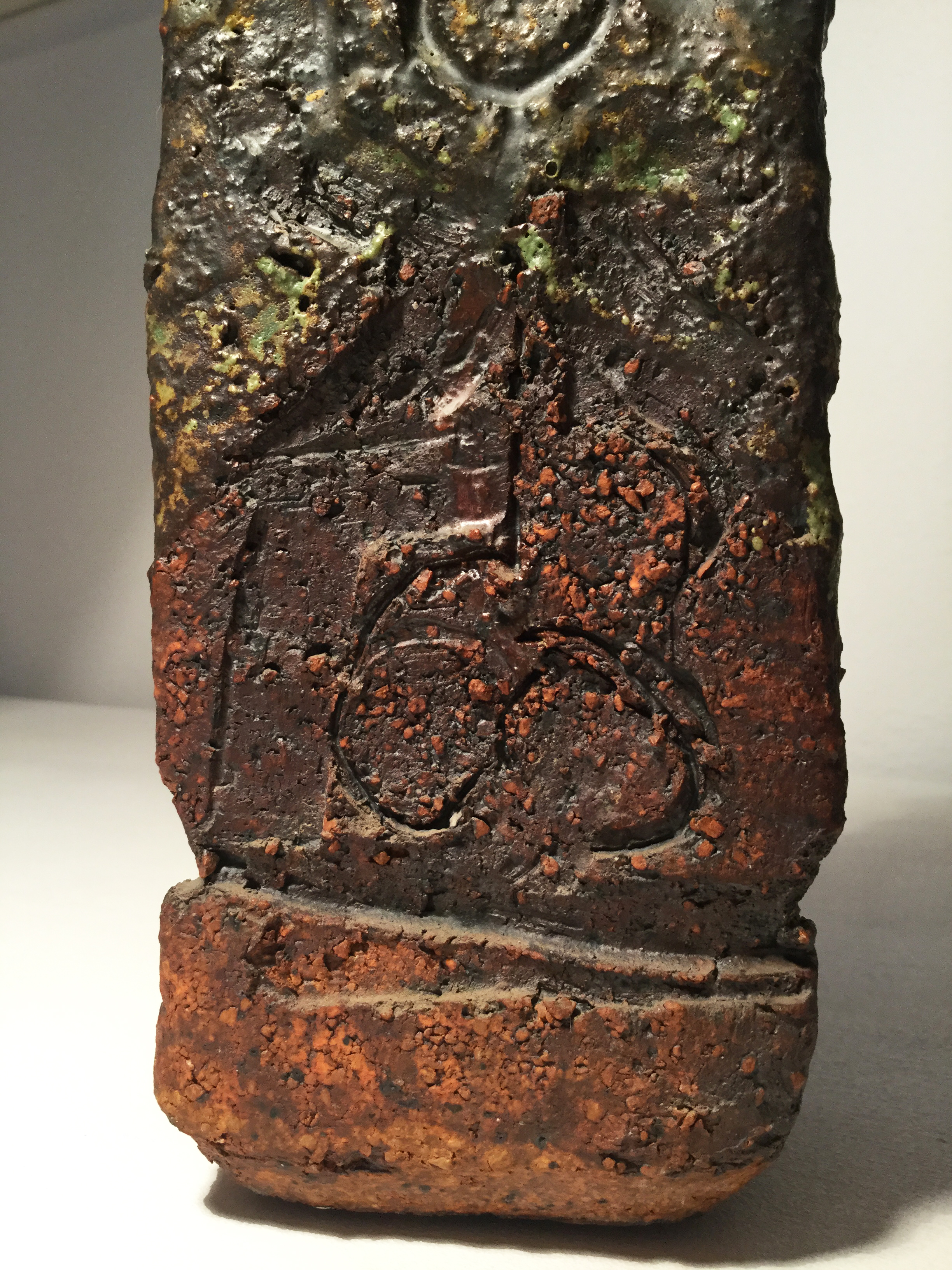 GIORGI STUDIO VASE
DESIGNER CLEMENT GIORGI
CIRCA 1960
NOTES: GIORGI WAS ASSOCIATED WITH THE "CLEVELAND SCHOOL", A GROUP OF ARTISTS AND CRAFTSMEN WORKING IN NORTHEASTERN OHIO AS EARLY AS THE 1870'S. THEY WENT ON TO ORGANIZE THE CLEVELAND ACADEMY OF ART, WHICH HAD AN AMBITIOUS PROGRAM INCLUDING AN ART SCHOOL, AN ART MUSEUM, A REGULAR SERIES OF EXHIBITIONS, THE ENCOURAGEMENT OF PRIVATE COLLECTORS AND PATRONS OF THE ARTS, PUBLICATION OF AN ART MAGAZINE AND THE TEACHING OF DRAWING IN PUBLIC SCHOOLS.
GIORGI'S WORK IS FEATURED IN THE PERMANENT COLLECTION OF THE CLEVELAND MUSEUM OF ART.
PRICE $3900
ALTERNATE VIEW BELOW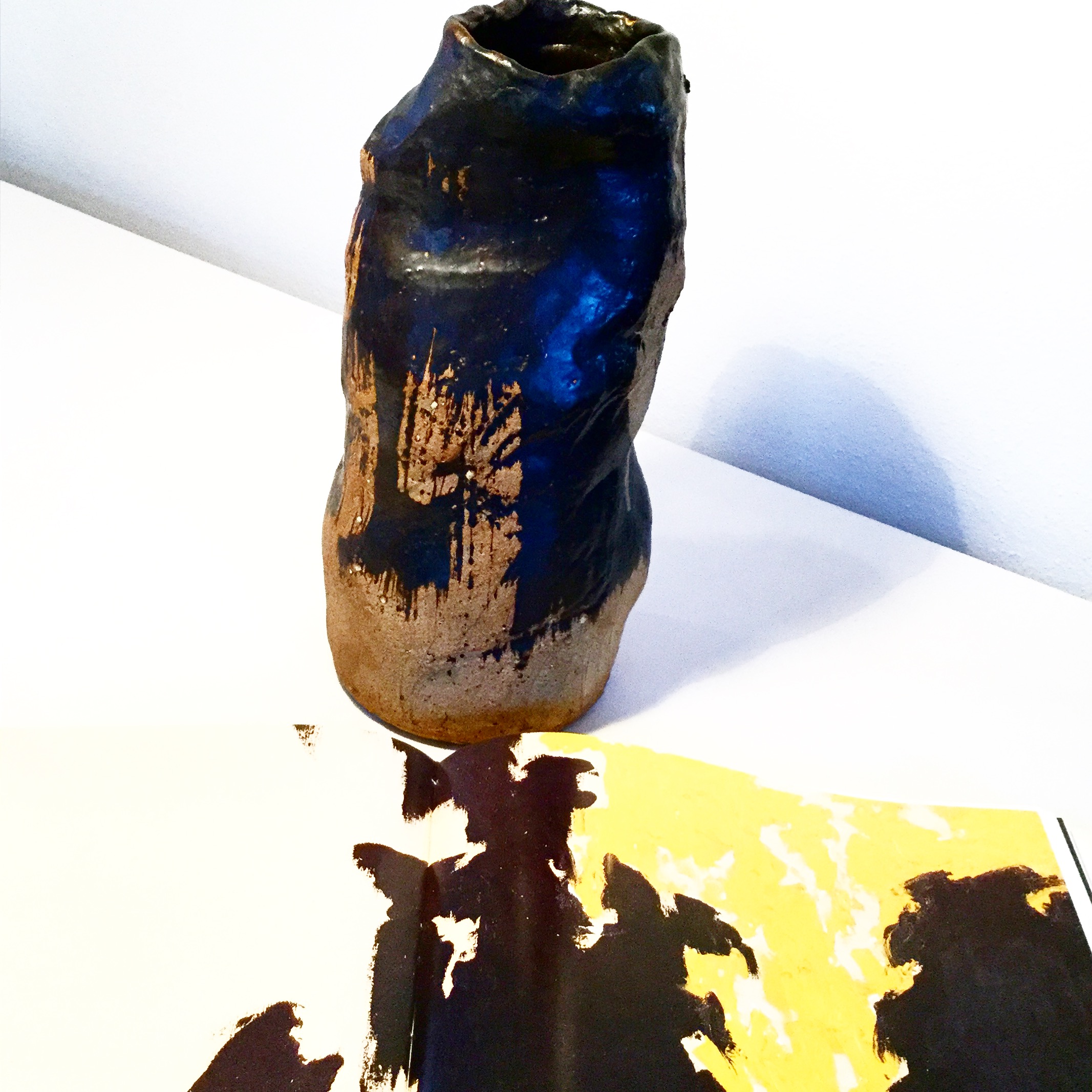 YARMOUTH MAINE POTTERY VASE
WITH STRONG TIES TO ABSTRACT EXPRESSIONISM
SIGNED DICK MILLER
YEAR: 1981
HEIGHT: 13"
PICTURED HERE NEXT TO A FRAGMENT OF AN IMAGE OF A PAINTING BY CLYFFORD STILL.
PRICE $3200
SMALL "DRIP" VASE
WITH STRONG TIES TO ABSTRACT EXPRESSIONISM
UNATTRIBUTABLE
SIGNED ON BOTTOM BUT ILLEGIBLE
DATED 1972
7" H X 5" DIAMETER AT WIDEST POINT
PRICE $1200
HELLA JONGERIUS BONANZA JUG WITH BRONZE "RABBIT" STOPPER
THIS PIECE HAS BEEN SOLD
2005
LIMITED EDITION
CREATED AS PART OF THE MOSS FULL GALLERY EXHIBITION "LAYERS", THE BONANZA JUGS WERE ORIGINALLY PRESENTED IN THREE COLORS AND WITH A CHOICE OF FIVE DIFFERENT "STOPPERS". THE JUG ITSELF IS A REWORKING OF THE B-SET JUG PRODUCED BY ROYAL TICHELAAR MAKKUM, THE OLDEST COMPANY IN THE NETHERLANDS. INCISED ARE PATTERNS FROM THE LAYERS FABRIC JONGERIUS DESIGNED FOR TEXTILE MAKER MAHARAM. STOPPER IS CAST BRONZE.
SIGNED.
THIS PIECE HAS BEEN SOLD
LARGE INCISED CLAY VASE
UNATTRIBUTABLE
(CARVED SIGNATURE MARK ON BOTTOM, ILLEGIBLE)
CIRCA 1970
7" X 10" X 6.5"
HAND-CARVED CLAY, DEEPLY INCISED WITH A FREE-HAND 'STRIPED' PATTERN; EARTHY OLIVE AND BROWN GLAZE
EXCEPTIONAL PIECE
PRICE $2900
CLAY VASE WITH THREE OPENINGS
STRONG REFERENCE TO ABSTRACT EXPRESSIONISM
SIGNED ON BOTTOM: KRAUSS
CA 1970
HEAVILY INCISED, WITH THREE NECK OPENINGS
7"W X 3"D X 8"H
PRICE $2100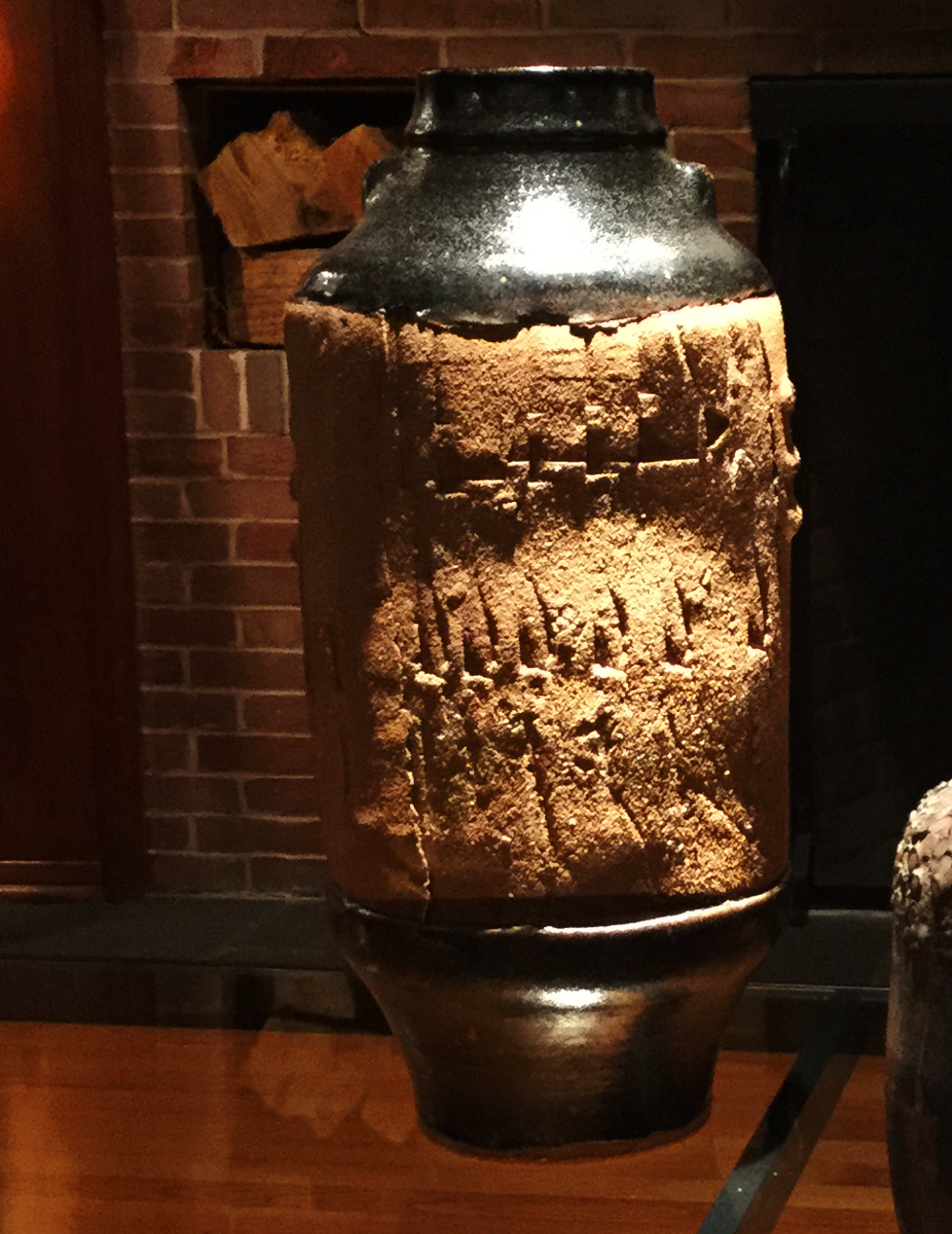 MONUMENTAL BRUTALIST STONEWARE VASE, RARE AND IMPORTANT
UNATTRIBUTABLE
SIGNED WITH ARTIST'S CYPHER (ILLEGIBLE)
24" HIGH X 12" DIAMETER
HAND THROWN WITH SALT GLAZE
CONDITION: EXCELLENT, A SUPERB PIECE
PRICE $14,000
MID-CENTURY MODERNIST BOWL
SIGNED EUGENE DEUTCH AND DATED 1944
GLAZED STONEWARE BOWL. EXTERIOR IN BROWN/BLACK GLAZE; INTERIOR IN SKY BLUE GLAZE.
DEUTCH, A MASTER POTTER, WAS GIVEN A SOLO EXHIBITION AT THE DALLAS MUSEUM OF ART IN 1948, AND A SOLO EXHIBITION AT THE ART INSTITUTE OF CHICAGO IN 1959.
RUGGED, TACTILE AND RESPECTFUL OF MATERIAL, THIS IS A VERY BEAUTIFUL OBJECT.
8.5" X 7.5" X 3" HIGH (APPROX)
EXCELLENT CONDITION WITHOUT CHIPS, CRACKS OR REPAIRS
PRICE $1100
ANOTHER VIEW BELOW
DELFT IN DETAIL B-SET JUG WITH HANDLE, HELLA JONGERIUS
2001
PORCELAIN, GLAZE, BRONZE HANDLE, PLASTIC ZIP TIES
10.75" H X 4.25" DIAMETER
NOTES: THIS PIECE IS FROM A PARTICULAR COLLECTION OF THE DELFT BLUE B-SET, MANUFACTURED BY ROYAL TICHELAAR MAKKUM, THAT WAS SPECIALLY DESIGNED FOR THE EXHIBITION "DELFT IN DETAIL", 2001, AT THE BEMEENTEMUSEUM IN THE HAGUE.
PRICE $5500
"SCROLL" VASE
SIGNED RICH NOATILFI
CIRCA 1970
UNGLAZED STONEWARE
5.5" HIGH X 6" DIAMETER
NOTES: BEAUTIFUL, VERY LABOR-INTENSIVE CONSTRUCTION
PRICE $900
IMPORTANT SLAB DOUBLE WAFFLE SCULPTURE BY DANIEL RHODES
CIRCA 1965
8" L X 5" W X 10" H
NOTES: DANIEL RHODES AUTHORED SEVERAL BOOKS ON CERAMICS VIEWED AS ESSENTIAL REFERENCE SOURCES FOR THE MEDIUM. 1947, HE BEGAN TEACHING AT HIS ALMA MATER, NEW YORK STATE COLLEGE OF CERAMICS AT ALFRED UNIVERSITY, A DIVISION OF THE STATE UNIVERSITY OF NEW YORK CUNY. AS TENURED PROFESSOR OF CERAMICS, HE ACHIEVED AN INTERNATIONAL REPUTATION IN GLAZES AND FIRING METHODS. HIS WORKS ARE IN THE PERMANENT COLLECTIONS OF SEVERAL MUSEUMS, INCLUDING THE V&A.
PRICE: $5500
RAKU VASE WITH CRACKLE GLAZE AND PRIMITIVE PATTERN INCISING
SIGNED ROBERT DAVIS
CIRCA 1970
5.5"W X 5.25" H
EXCELLENT VINTAGE CONDITION
PRICE $900
EMBROIDERED PLATE, HELLA JONGERIUS
FROM DELFT BLUE PROJECT
2001
DIAMETER 6.5"
PORCELAIN, COTTON THREAD
NOTES: JONGERIUS APPLIES A TRADITIONAL DELFT DECORATION IN AN UNTRADITIONAL MANNER, STILL HIGHLIGHTING HANDWORK BUT COMBINING TWO DIFFERENT AND DISSONANT MEDIA.
PRICE: $1900
"CELLS" GOLDEN BISCUIT PLATE, STUDIO JOB
GOLDEN BISCUIT COLLECTION 2007
PORCELAIN, 24K GOLD
LIMITED EDITION OF 8 PIECES
PRODUCED BY ROYAL TICHELAAR MAKKUM, NETHERLANDS
PRICE: $900
PRIMITIVE BRUTALIST STONEWARE VASE
UNATTRIBUTABLE
INCISED SIGNATURE MARK ON BOTTOM (ILLEGIBLE)
ORIGINALLY A LAMP BASE, WITH CONTRASTING SURFACE AREAS OF SMOOTH GROUND AND PRONOUNCED RAISED HIGHLY DIMENSIONAL CIRCLES, IN A RICH, SUBTLE AND VARIABLE BROWN RUST GLAZE.
12.5" H
RAW, WITH COMPELLING ENERGY
PRICE $1100